Holiday Wiki Wiki Show Aftermath
November 20: The first Holiday Wiki Wiki early birds made a bee line to vintage Christmas bubble lights, Santa and Snowmen blow molds. Entire tub loads were sold in minutes to beaming collectors. Jeff the seller had so many lines of lights and lighted figures on one outlet, he blew the circuit.
Shopping for good guys and gals started early and fast with vintage and antique jewelry tables crowded with earnest buyers. Aloha shirts and mod fabrics were abundant and brightened up the room. Giant Kanegon made a special appearance to the awe of Japanese Kaiju collectors.
Mahalo to all the collectors and vendors who made the Holiday Wiki Wiki extra special. Hope to see you at the March 18, 2018 Spring Wiki Wiki!
Wiki Wiki Show Eve
November 18: One more day till Holiday Wiki Wiki! I am looking forward to the wonderful results of Wiki vendor's hard work finding unique treasures for our last show of 2017. Customers from Japan have been emailing me about making a trip just for the show. Thank you Midweek for the terrific Christmas Santa overview photo in the calendar section. We love the happy faces on collectors when they find that special something.See you soon! ilene & wayne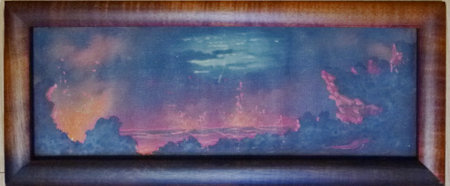 Early Volcano Painting
Early Entry Freebies
November 13: 1951 Hula Girl Bus Tokens made for HRT or Honolulu Rapid Transit. The first 20 Early Birds ticket holders have the choice of these cool unused metal tokens or one of other vintage thank you gifts. This Sunday at the Holiday Wiki Wiki One Day Vintage Collectibles & Hawaiiana Show. Early Bird entry is at 9:30 am and General Admission is from 10:30 am. Preview page now up at www.ukulele.com/wikiwiki.html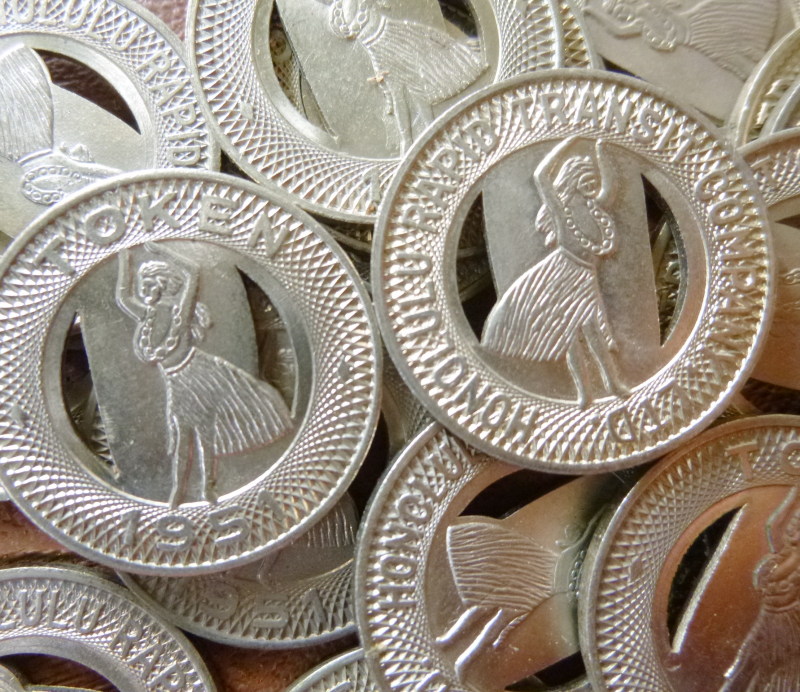 1951 HRT(Honolulu Rapid Transit) Hulagirl Tokens
The future of the Blaisdell
November 9: The City held a workshop on the renovation of the Blaisdell Center last night. Here's a shot of what the center might look like. They're still in the design phase of the project. For more information go to imagineblaisdell.com