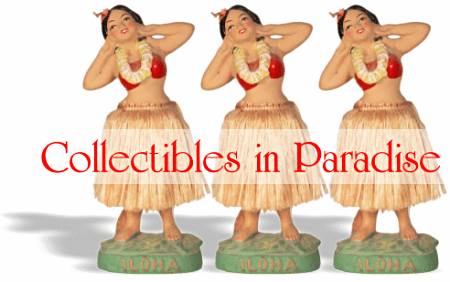 Aloha & welcome to the home of the Hawaii All-Collectors Show, and the Wiki Wiki One Day Vintage Collectibles & Hawaiiana Shows. Dozens of Hawaiian antiques stores all under one roof where you may shop for Hawaiian jewelry, aloha shirts, Hawaiiana, antiques, vintage, art and collectibles.
Our show & sales are held four times annually at the Blaisdell Center in Honolulu. Four fun days a year, the biggest antiques, vintage and collectibles store in Hawaii.
Hawaii All-Collectors Show
- HAWAIIANA, VINTAGE & antiques show. This year's
2017
show, a one-day show, was held on
July 16
in the LARGE BLAISDELL EXHIBITION HALL.
Wiki Wiki One Day Show
- A one day vintage collectibles, ANTIQUES & Hawaiiana show. HELD 3 TIMES A YEAR in March, October, and November. The next Wiki Wiki Show will be on Sunday, October 1. ALL WIKI WIKI SHOWS are held in the BLAISDELL HAWAII SUITES.
What's New!
- The latest collectibles news and show schedule in Hawaii.
Media Credits
- Featuring ukulele.com in the media.
Much Ado About Ukuleles
- Bits & pieces about ukuleles, including some exploding vintage ukuleles.
Ongoing Collectibles Related Events
- Goings on Around the Town: Museums, flea markets, etc.
Collector's Spotlight
- A visit to the Kamaka ukulele factory, plus, we visit 2 flea markets in Japan.
GoHawaii.com
- The official visitor site to find Hawaii related events.
Waterlilies in Paradise
- Tropical Waterlilies and Lotus plants.
50th State Big Time Wrestling
- Vintage Hawaii pro wrestling in the 1960s and 1970s. Oooooh yeah!